Blueprint Collaborative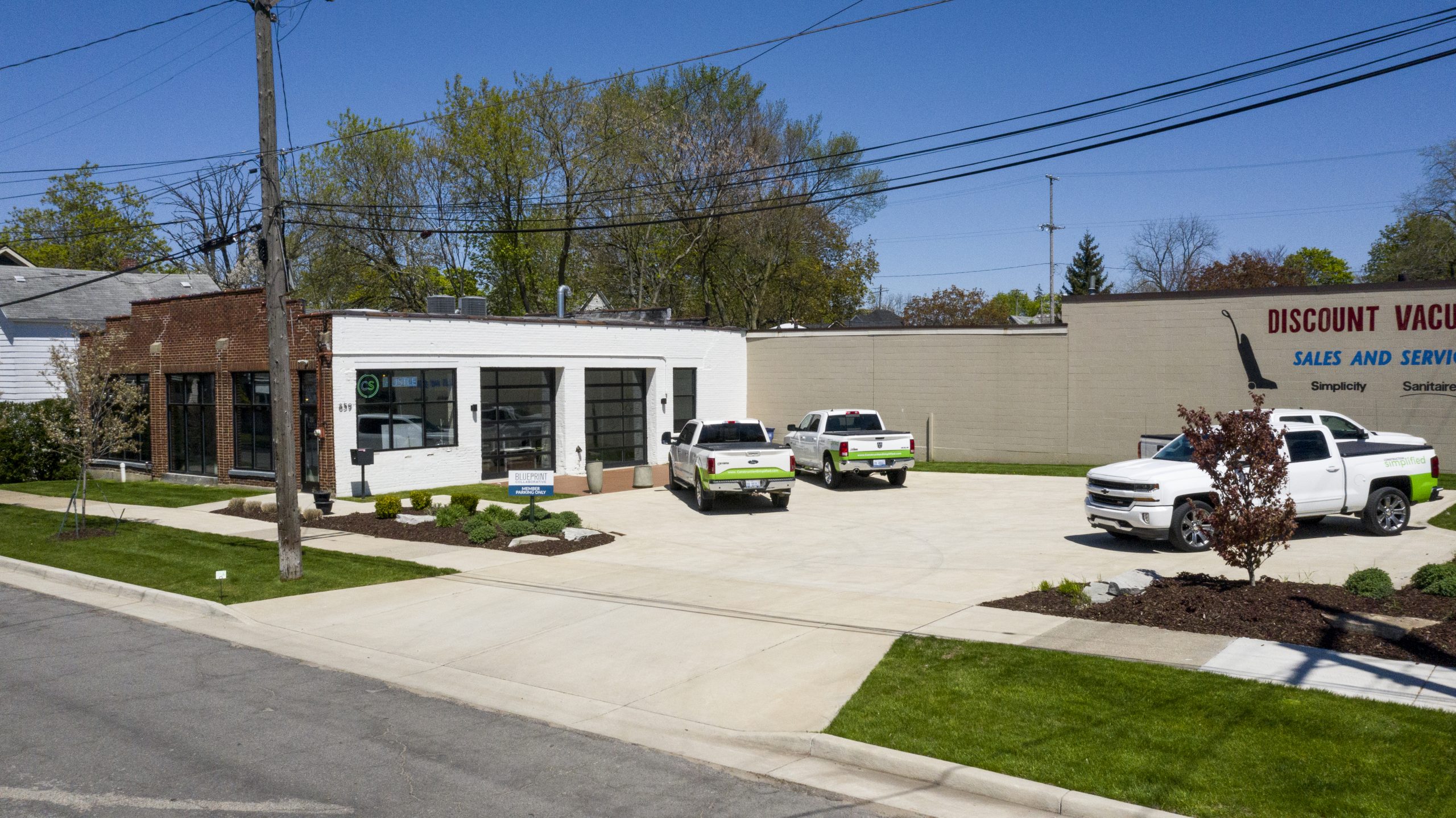 As Construction Simplified's business grew, it became obvious to its founder that new and improved office space was desperately needed. Not only for the team's growth, but a space that showed everyone who visited, who we are, and what we can do as creative builders & developers.  In addition to the need for growth and visibility, Brent, an enthusiastic real estate investor, always dreamed of a collaborative office space. An office space that took the burden of a physical location off others looking to build a business in the construction, design, and real estate industry.  With these needs, the business of Blueprint Collaborative was born.
First came the real estate search, knowing that we needed a standalone building or property close to downtown Grand Rapids, hopefully on a well trafficked corridor for visibility and future equity as our city continued to expand.  With the thorough review of many properties, there was always one that continued to stand out as its opportunities for instant remodeled equity and it had the bones to be very cool; just what we wanted. 
The building itself was constructed in 1928 and sat on a parcel located at 12 Deloney NW, which the listing also included the adjacent and vacant residential lot located at 859 W Fulton.  The 2,400 SF building had (3) garage door openings with plenty of light opportunities and awesome wood bow trusses that were in need of refinishing.  To top it all off, the location was to die for, especially when we planned to combine parcels to give it the locatable West Fulton address.  It is often said that location is everything and it is common knowledge in GR that West Fulton is the western entrance corridor to the city.  With our confidence building, we finally made the appropriate offer with contingencies to purchase the property. 
The first and most critical contingency was getting full city approval to change the use from the current auto garage to a business office, yet this proved much more challenging as the City of Grand Rapids had recently adopted an area specific zoning plan requiring the small lots to become 3-story residential.  Taking on the challenge, Construction Simplified argued and proved to the Board of Zoning Appeals that when taking into consideration all of the requirements of a 3-story development, there would be no way the building, setbacks, off-street parking, etc. could be achieved.  After (4) months of energy and meetings, we were given approval for our reduced office use.
CS had a building permit in hand within a week of approval and went right to work.  Removing all of the window and door openings, sandblasting the interior of the building, and grinding and polishing the concrete floors, the years of use began to come off.  In just a short (12) weeks, the renovations were completed, and Blueprint Collaborative was a reality.  Construction Simplified would be its managing member and take our next step in business and real estate growth.
"Real estate investment can be personal, especially when just getting started.  The team at Construction Simplified fully understands this and this is the reason why all partners at CS invest in our community's real estate as well, knowing it makes us a much more well-rounded, efficient, and exciting individual to have on your team" – CS